Empowering Minds. Supporting Communities.
Welcome to the Association for Youth Empowerment. We invite you to explore our site whether you're looking to make a difference in the life of a young person through mentoring and volunteering or supporting our partner organizations and programs. Thank you for your interest in "being the change."
ABOUT AYE
Founded in 2006, the Association for Youth Empowerment (AYE) is dedicated to creating the Beloved Community. We do this by challenging and empowering young people to create positive change.
AYE partners with community members and organizations who share a common goal of eliminating social oppression and fostering respect, acceptance and compassion in our schools and communities.
AYE is governed by a Board of Directors supported by Executive Assistants. Our activities are carried out by a team of Volunteer Outreach Coordinators led by an Executive Director.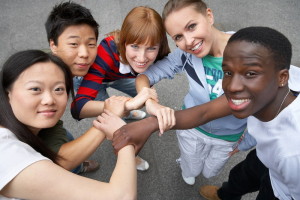 The Association for Youth Empowerment (AYE)
is a North America-based nonprofit 501(c)(3) organization dedicated to bringing to schools and communities transformational youth programs.
Through sponsorship and support of social change and leadership programs, AYE assists communities in eliminating isolation, violence and social oppression.