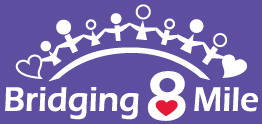 What is Bridging 8 Mile?
Bridging 8 Mile (B8M) is an initiative developed by everyday citizens dedicated to transforming Detroit, its suburbs, its people and the way we relate to one another. Bridging 8 Mile was founded on the belief that when people unite for the greater good, positive change is inevitable. Our ultimate goal is to connect COMMUNITIES, inspire COMPASSION and take ACTION.
Bridging 8 Mile Vision
Imagine people in our communities viewing each other as friends and neighbors, where collaboration takes root and blooms. Image a place where former enemies come together and act as family. Imagine a place where neighbors love each other as themselves. This is what can happen when we bridge 8 Mile.
In Southeast Michigan we live in a culture of fear, apathy and separation. In this cultural environment, it is common for whites to view members of the black community as "the other;" dangerous, untrustworthy, and "less than." It is common for the black community to view whites as, uncaring, untrustworthy, and hostile.
In this culture of fear and apathy, violence, neglect and separation are viewed as "just the way it is." It is common for people from each side of the divide to live in separate worlds, cut off from the gift of experiencing and relating to those on the other side as on the same team. It is safe to say that we are cut off from "loving our neighbors as ourselves," because we don't even know our neighbors.
If we are honest with ourselves, we know that unless there is a dramatic shift in the mindsets and behaviors of our communities, the (probable – almost certain) future facing us is more alienation, isolation, fear and the terrible costs that result. Bridging 8 Mile is a positive step in shifting our mindsets.
How Will We Bridge 8 Mile?
It's safe to say that almost everybody in the region is looking for the answer to the question of "how do we create the Southeast Michigan we really want?" We say that the answer is in our hearts and that getting to know each other will open our hearts to the answer. That's the first step in Bridging 8 Mile.
As part of the Bridging 8 Mile strategy, AYE will host a series of Community Challenge Days and other community-building activities, attended jointly by residents from the City of Detroit and the towns and cities in the region. The Challenge Day program, through its creative, ground-breaking techniques, has a spectacular track record of breaking down barriers between people and causing them to see each other with new eyes.
As seen on Oprah, MTV, and most recently Tom Brokaw's show, "Bridging the Divide," Challenge Day inspires youth and communities to Be the Change they wish to see in the world, and to challenge others to do the same. Visit www.challengeday.org for more information.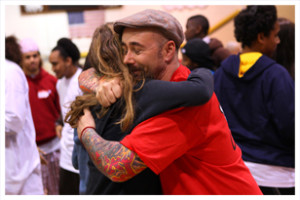 What will Bridging 8 Mile look like?
Check out the video link below for the award-winning Challenge Day program, featured on MTV and Oprah. This is what's possible when we bridge 8 Mile.