Greetings,
The board of the Association for Youth Empowerment (AYE) would like to thank and acknowledge Yazaki North America for their support of the April 12th Empowerment Zone Initiative with the topic: Breaking the Silence.
We were honored by your presence and we appreciate the support that Yazaki has shown to support AYE's mission, which is to partner with community members and organizations who share a common goal of eliminating social oppression and fostering respect, acceptance and compassion in our schools and communities.
The intention of the event was for the kids to understand why "Breaking the Silence" is so important and also that they know that child abuse happens in all levels of society (rich and poor), any age and both boys and girls are abused.
The event met its intent, was very well attended and all had a great time that was both rewarding and fun! The support meant a lot as the kids were aware that they have the support of the community and that the community that is available to them is broader and bigger than what they see every day.
Specifically, we would like to thank the following people from Yazaki North America who came out to spend time with the young people:
Gabrielle Collier
Dennis Maxwell
Andrew Romain
Divya Chadha
Nawal Denard
Stacey Cole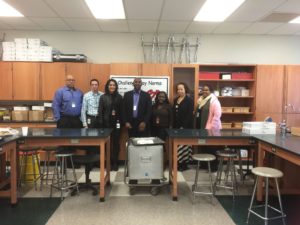 Thanks so very much again and we look forward to partnering with Yazaki North America again in the future.
Thanks Again from the AYE Board!
Robert Cooper – President
Jeff Gabrielson – Vice President
Roderic Scott – Treasurer
Jennifer Young, Secretary
David Abramson – Board Member
Charles C. Primas – Board Member