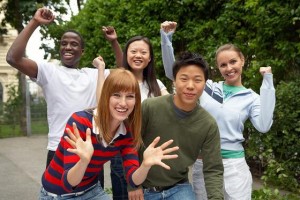 NOVEMBER 18, 2015 BY DETROITINTERFAITHCOUNCIL
Prejudice, fear, hate. What we don't know can hurt us, can hurt our children, can hurt our community. Distributing information can help. Creating understanding can heal.
On December 5, our community members have a unique opportunity to participate in a program designed to get us to look inside ourselves and listen to our neighbors. The day-long program is called Challenge Day. It was initially developed to facilitate dialogue within schools. But the December 5 Challenge Day has been created to facilitate dialogue across the lines that divide our community.
"The people in the city have a story about the people outside the city, and vice versa. You know what 8 mile represents, right?" says Jeff Gabrielson, who is involved in Bridging 8 Mile, an Association for Youth Empowerment (AYE) initiative that brings people of different backgrounds and social experiences together to realize a common humanity.
"We use tools such as Challenge Day to get them to get each other," says Gabrielson. "We want to create a community where we truly get each other."
"If you're going to love your neighbors as yourself, without knowing your neighbors, how are you going to do that?" asks David Abramson, Gabrielson's collaborator.
The two share a commitment to creating connections within the community, and several years ago set a goal to create a community building network.
One of his criteria for his own success, says Abramson, who lives in Ann Arbor, was "to be invited to a black person's house for dinner. There are a lot of us who are disconnected in that way." He achieved that level of connection within the community, and says "It's really opened up the community in such a way that it feels like home. Now I can go to events in Detroit and see people we know. That was just hard work we needed to do."
"To the extent that I know you, I can trust. To the extent that I can trust you, I can work with you. And the extent to which we can work together will determine our ability to make a difference," says Abramson. "So, how do we get to know each other?"
Potlucks were a good atmosphere for get to know one another, says Gabrielson. "It's low tech, but there's something magical that happens when you break bread together. Everyone needs to eat. When you're sitting across a table, you're just another human being."
Four years ago, the two began the Bridging 8 Mile effort with "lots and lots of meetings in living rooms with people," said Gabrielson. "Our take away was that we needed a tool."
Both had been involved in Challenge Day in schools, and decided to try it in a community setting. Since getting involved, they have been responsible for tens of thousands of kids going through the program.
"It's the one tool we know helps in groups," says Abramson.
The transformational school Challenge Days have been featured on television by Oprah Winfrey and Leeza Gibbons. Students share, confess, cry, connect, apologize, thank, hug and walk away with a far greater understanding of the thoughts, feelings, and challenges faced by their peers.
In the December 5 Community Challenge Day, Abramson and Gabrielson plan to bring together over 100 people, of different ethnic backgrounds, races and religions ~ most of whom are complete strangers to each other.
"By the end of the day, because of the groundbreaking nature of the Challenge Day, the attendees will experience community and the possibility of a new future for our region," says Abramson.
"8 Mile for me is the 6 inches between my ears," says Gabrielson. "It's only my perception that gets in my way of connecting with another human being."
For program registration, click here.